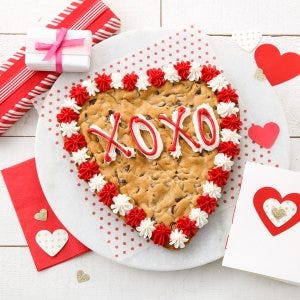 Valentine's Day is on the horizon, and no gift says "I love you" quite like food does—especially when said food takes the shape of a heart. Chocolate and flowers are always nice, but why not try and win your lover's heart by thinking outside the box and going the extra mile with treats like pizza and donuts? In the event that you're still on the hunt for some last-minute surprises for your S.O., your crush, or even your galentine(s), we found ten heart-shaped foods that'll make the ultimate gift on Valentine's Day.
1. Mrs. Fields' Personalized Cookie Cakes
If you're looking for a way to spread the love this year with a lot more sugar, you can head to Mrs. Fields, where customers can purchase a gigantic (and I do mean gigantic) personalized cookie cake for $24.99. If your special someone would prefer a medley of cookie flavors, there's also a heart-shaped cookie tin with assorted flavors for $40.
2. Chick-fil-A's Heart-Shaped Box of Nuggets and Minis
Haven't you heard? Chicken nuggets are the new chocolate. If you want to go beyond the box of chocolates this year, head to Chick-fil-A, where you can pick up 30 Chick-fil-A Nuggets, 10 Chick-n-Minis, or six Chocolate Chunk Cookies in a heart-shaped container.
3. Papa John's Pizza
From February 10 to February 16, you can get a one-topping heart-shaped Pizza for $11 with the promo code VALENTINE, or a one-topping heart-shaped pizza and a double chocolate chip brownie for just $16 with the promo code BEMINE, at participating locations.
4. Auntie Anne's Pretzels
The pretzel giant is putting a twist (pun intended) on its original snack in honor of V-Day again this year. On February 14, customers will be able to order heart-shaped original and cinnamon sugar pretzels. Best of all, there is a BOGO deal, so you and your boo have the chance to get two for the price of one.
5. Dunkin' Donuts
Dunkin' had a selection of Valentine's Day donuts last year. The lineup included heart-shaped Boston Cream and jelly donuts, plus a new Cookie Dough & Brownie Batter Double Filled Donut. Yep, both fillings stuffed inside one giant square donut! It's likely Dunkin' will have something just as good if not better this year since they're always revamping their menu with the seasons.
6. Einstein Bros. Bagels
Beginning February 3, guests can pre-order heart-shaped bagels by the half-dozen or baker's dozen, or from February 10 to 14, you can enjoy drop-in purchases of a plain, chocolate chip, or cinnamon raisin heart-shaped bagel at participating Einstein Bros. Bagels locations.
7. The Fresh Market
The winner for most original goes to The Fresh Market, which is offering shoppers a heart-shaped rib-eye for $14.99 a pound through the 14.
8. Heart Pasta
This heart-shaped pasta is available on Amazon Prime, so if you happen to be planning Valentine's dinner last-minute, it works like a charm. For just $13, you can get two packs of the pasta so there will be enough leftovers for everyone you love.
9. Heart Macarons

Costco is selling the cutest box of a heart-shaped Valentine's Day macarons that deserve a place at your Galentine's Day dinner. At $11.99 for 25 macarons, this couldn't be an easier (or more budget-conscious) way to add a little flair to your celebration.
10. Heart Cinnamon Rolls
Cinnabon has heart-shaped CinnaPacks full of cinnamon rolls for a limited time this Valentine's Day season and thank goodness for that. Mall bakeries will have a heart pack with nine MiniBon cinnamon rolls for around $14.99 while Pilot Flying J locations will have a 16-count BonBites pack for around $9.99. Something for everyone, no matter your cinnamon roll preference!
11. California Pizza Kitchen
From Feb. 11-16, guests can order any of their favorite CPK pizzas on special heart-shaped crispy thin crust for no additional charge.
.(tagsToTranslate)valentine's day foods(t)heart-shaped foods(t)heart-shaped cinnabon(t)heart-shaped chick-fil-a(t)heart-shaped pizza(t)valentine's day donuts(t)valentine's day dunkin donuts